The Energy Charter Treaty (ECT) gives fossil fuel firms the power to sue governments for taking climate action. But the future of this climate killing Treaty hangs in the balance. Two paths lie ahead: The EU can either try to greenwash it through the ongoing reform; or it exits, leading the way to a clean, green and secure energy future. Activists from various climate NGOs  are sending a giant dinosaur across Europe to deliver a message directly to decision makers that exit is the only option in the climate emergency we are living in. This is a make or break moment!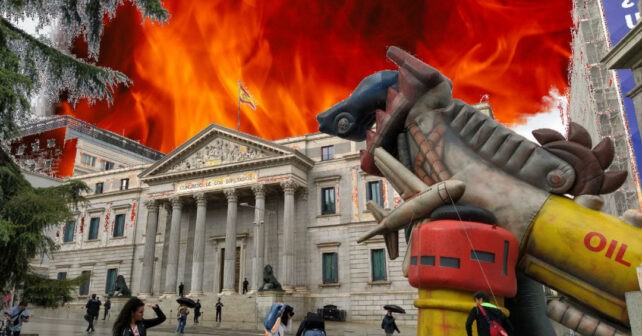 Raising up voices for a fossil free world
The EU and its Member States have so far tried to make the ECT better by reforming it. Unfortunately, all changes to the Treaty would have to be approved by all 53 states that are members of the Treaty. Even the European Commission acknowledges that this is a difficult task as many of these countries have vastly different priorities and levels of ambition when it comes to climate policies. Anything more than minor changes are therefore impossible but what the ECT would need is a major overhaul.   
It would be easy for EU governments to approve cosmetic changes and pretend that they make the ECT climate friendly. This would quench any hopes of a withdrawal in the near future and it's what climate activists want to prevent. The ECT-Rex tour is getting our message out to EU governments that withdrawal from the ECT is the only option if we want to avoid states having to pay hefty sums in compensation to fossil fuel firms when they take decisive climate action.
Over 1 million people have already signed our petition to end the ECT. To make sure they hear how people really feel about the ECT we are embarking on a European tour, to take our message directly to politicians and the public in key capitals and major cities across the continent. We will take a 9m tall inflatable dinosaur representing the ECT to Lisbon, Madrid, Barcelona, Berlin, Prague, Brussels, Luxembourg and Vienna. Made from fossil fuel artefacts, this prehistoric monster is an example of everything that is wrong with the ECT: it's outdated, dangerous, and can't be ignored. We hope to encourage decision makers across Europe to share our message – it's time to exit the ECT. 
When will the ECT-Rex be in my city?
Lisbon, Sunday 24 April, in Praça do Comércio – follow @PlataformaTroca on Twitter for updates

Madrid, Tuesday 26 April, 5pm in front of the Congress – follow @NOalTTIP on Twitter for updates

Barcelona, 28 April, 6pm in front of the delegation of the European Commission (Passeig de Gràcia) – follow @NOalTTIP on Twitter for updates

Berlin, Wednesday 4 May, 11am in front of Kanzleramt – follow @PowerShift_eV on Twitter for updates

Prague, Tuesday 10 May, 9am at  Malostranské náměstí – follow @LimityJsmeMy on twitter for updates 

Vienna, Wednesday 11 May – follow @AttacAustria on Twitter for updates

Brussels, Tuesday 17 May, 11am in front of the EU Council  – follow @www11be on Twitter for updates 

Luxembourg, Wednesday 18 May – follow @Act4Solidarity on Twitter for updates
How can I get involved?
Anyone is welcome to come along to these events – the bigger the crowd the bigger the impact. If you can't attend but want to support some of these ECT-Rex moments then follow the tour on #ByeByeECTRex, #NoECT, and #ExitECT. Like and share our posts to help spread the message. Why not tag your local MP?
You can also sign our petition which has already received over 1,000,000 signatures and continues to grow. 
More about the ECT
If you want to know more about the Energy Charter Treaty and why it is so dangerous for the climate we have some useful resources: 
A web page that reveals the Energy Charter's dirty secrets, from how it blocks the energy transition, to shining a light on people who profit from the system. It also looks at some of the most outrageous cases.
An earlier blog on the ECT highlights 8 reasons why the ECT reform process is doomed to failure. If you really want to get into the details we recently published a policy briefing on how the reform has failed to deliver on the EU's own objectives.