The report produced by CAN Europe and its member organisations focusing on rooftop solar PV on residential buildings (including both individual and collective self-consumption) shows that there are still significant barriers at national level which impede a higher uptake of rooftop solar PV, and many Member States still lack the right regulatory framework and enabling environment.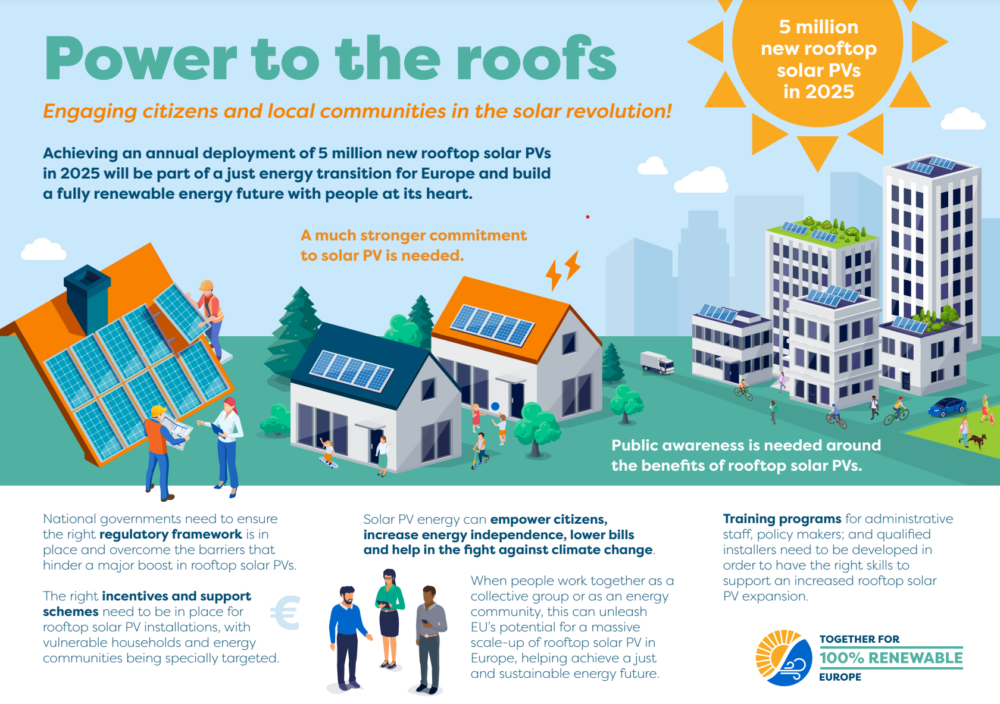 Rooftop solar PVs have enormous potential and installations can be built out quickly, enabling households' to
shift from being mere consumers of energy to "self-generators" putting the control of electricity production
back in their hands and making them active participants in the renewable energy transition. A European Joint
Research Centre (JRC) analysis shows that rooftop PV in the EU could potentially produce 680TWh of solar
electricity annually (representing 24.4% of electricity consumption).
Furthermore, investments in the solar sector generate the most jobs per million euros of capital investment and
can be implemented in a short timeframe, in particular on rooftops. On top of enormous benefits for households
from lower energy bills to clean and affordable energy, PV systems on rooftops do not compete with land use, and their integration into the electricity system is relatively easy due to their proximity to the point of consumption.
However, a much stronger commitment to solar PV in the EU member states is needed. No EU Member State has fully adequate policies to ensure the necessary deployment of solar PV and wind energy during the next decade and beyond. Barriers related to administrative processes and political and economic frameworks were shown to block developments in Europe. It is important to detect and overcome barriers at national level and make sure the right incentives are in place for a higher uptake of rooftop solar PV. It is also necessary to highlight good and bad practices and identify the key factors of success for setting up the right regulatory framework.
The report and the accompanying country sheets are produced by CAN Europe and its member organisations
in eleven Member States (Bulgaria, France, Germany, Greece, Italy, Latvia, Lithuania, Portugal, Romania,
Sweden, and Spain). It covers and focuses on residential buildings (individual and collective self-consumption)
to allow for comparison of approaches among different countries.
The focus of the report and country profiles is on the legal, administrative and support measures, leaving aside other technical aspects such as the integration of solar systems with batteries.
It covers:
· Governance
· Incentives: support schemes, taxes and subsidies
· Permitting and administrative procedures
· Energy sharing and collective self-consumption
· Energy communities
· Additional measures to support the development of rooftop solar PV such as awareness raising campaigns,
training programmes and the roll out of smart meters.
The interactive map below reveals how countries are performing on each of the areas examined. By clicking on a country, it will display that country's profile.
Rooftop Solar PV Comparison – Country Profiles